COMPANY
Mission Statement
To supply quality process and packaging solutions with excellent cost-benefit relationship including strong technical service before and after the installation in order to create solid and long lasting commercial relation with our customers.
Values
COMMITMENT
TRUST
TEAM WORK
COMMUNICATION
HONESTY
SERVICE ATTITUDE
BE POSITIVE
PROACTIVITY
WHO WE ARE?

CIMA Industries, is an association of manufacturers of Asiatic machinery which supply process and packaging equipment for pharmaceutical, cosmetic, chemical and food industries under the constant principle to offer the better rate cost- benefit in the market.
CIMA Industries, and its selected international distributors share a solid commitment with the quality, traduced in the implementation of continuous improvement systems and standardization of production politics. 
CIMA Industries manufacture all machinery according to the User Requirement Specifications (URS) in order to accomplish all regulatory and security guidelines that apply at global level.
In order to make this possible CIMA Industries counts with engineer departments that permanently update each manufacturer of the group regards the most demanding industrial rules where apply.
CIMA Industries assures the heftiness of its equipments by means of the design and construction, using worldwide brands available locally, in this way we guaranty the continuous performance and the fast acquisition of parts when they become necessary (Siemens, Festo, Schneider, Omron, Sick, SKF, Alfa Laval, Grundfos, Edwards, Wilo, Coopeland by example).
CIMA customize all documentation related to the equipment, making easier the training, operation and maintenance of the equipments trough the life term even in the more exigent industries as the pharmaceutical market, we provide a complete set cGMP including URS, DQ, FAT, IQ, OQ y SAT documentation. We perform the qualification executions as customer request.
CIMA Industries delivers a complete and trustable documentation in Spanish, English or Portuguese as customer requirement.
Telephone
PANAMA
TEL. +507 205 1915
FAX. +507 205 1802
ARGENTINA
TEL. +54-11-4601-9150
GUADALAJARA, JAL.
TEL. +52-33-4777-6000
MEXICO, DF
TEL. +52-55-2455-5901
GUATEMALA
TEL. +502-5966-0585
CHILE
TEL. +56-2369-5637
COSTA RICA
TEL. +506-2588-2505
FAX. +506-2288-2245
COLOMBIA
TEL: 571 -3379771
EGYPTIAN
TEL. +202-2450-7094 / 5
USA
TEL. +1 508 456 2714
BRASIL
TEL: +55-19-3295-8362
PERU
TEL. +52 1221 3377
VENEZUELA
TEL: (+58) 212-823.2340
SHANGAI, CHINA
TEL. +86-21-54993845
FAX. +86-21-54992467
https://cimaindustries.com/wp-content/uploads/2018/05/2018-05-29-CIMA-PUBLICACION-WEB.jpg
500
604
Web Master
https://www.cimaindustries.com/wp-content/uploads/2014/07/logotipo_CIMA_Industries_Inc_web.png
Web Master
2018-05-29 12:35:09
2018-05-29 12:44:21
FCE PHARMA 2018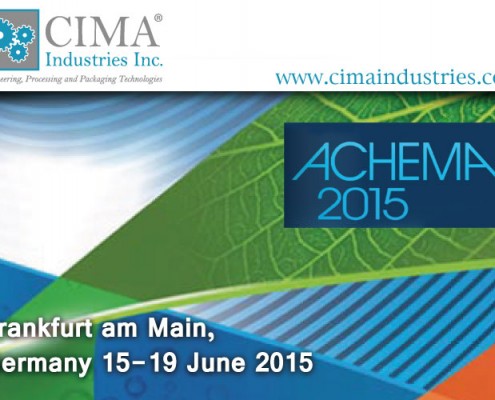 https://cimaindustries.com/wp-content/uploads/2015/06/2015_06_09_CIMA_News.jpg
500
700
Web Master
https://www.cimaindustries.com/wp-content/uploads/2014/07/logotipo_CIMA_Industries_Inc_web.png
Web Master
2015-06-11 10:46:29
2015-06-11 10:46:29
ACHEMA – World Forum
Clients
We invite you to join our group of satisfied clients.